Finding ways to increase productivity has always been an important part of manufacturing. But against the current backdrop of demand volatility, inflation, a shortage of skilled workers and the requirement for smaller batch sizes, increasing productivity is now essential to a business's competitiveness. Discover our six practical steps to greater productivity and find out about a new initiative that's helping to boost productivity in factories.
Connecting machines by building an edge platform
Edge devices are important in the factory of the future because the connection of machines to the internet or the cloud dramatically increases the range of functions and the performance of machines.
The solution: An edge device can take over the activities around the machine. It receives orders from the MES, for example, and controls the machine via an integrated PLC, or it can be linked to the existing control system. By linking the MES and ERP system, edge devices can also enable the commissioning of maintenance and procurement of spare parts.
The result: Productivity is increased by 10 percent. Because edge devices enable data to be captured and processed closer to the source, rather than sending it to servers, the data can be gathered and analyzed on the factory floor in real time. This has enormous benefits in terms of predictive maintenance, improving product quality and increasing throughput.
Implementing a digital twin
A digital twin is a virtual model designed to accurately reflect a physical object. There are various types, and the biggest difference between these is in the area of application. This ranges from a basic component to assets to a complete system or unit. Process twins reveal how systems work together to create an entire production facility.
The solution: Our digital twin solution is a virtual representation or model of physical assets in a real factory. We use harmonized and standardized information models and interfaces (APIs) to create an interoperable environment of interconnected components. It provides a solution set to model and execute production processes. In Industry 4.0 systems, each I4.0 component is represented by a standardized AAS (asset administration shell), which forms an information shell for an asset or hierarchy of assets. So, our digital twin solution offers a ready-to-use implementation of a smart manufacturing platform based on AASs. Once installed, it provides complete transparency and shows how the different components in a production process work together. This enables you to validate concepts and test processes and procedures before implementing them – resulting in fast adoption and integration of applications.
The result: Our digital twin solution makes the integration and commissioning process at least 35 percent faster. Complex simulation, analysis and monitoring of systems can be carried out in real time, and problems can be detected and dealt with before they occur. New products and processes can be tested and perfected virtually first, saving time and effort.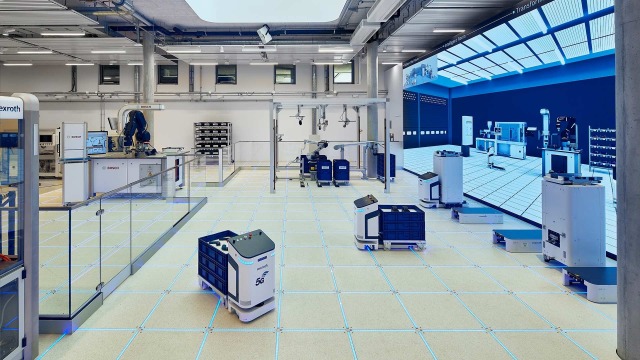 Resource optimization through targeted energy management
Energy management plays a major role for companies that want to save money. However, it's important to get reliable, tangible data from the process when making decisions about reducing energy usage.
The solution: One option is to implement an electrical energy management system, which gives you transparency in your energy consumption and enables you to avoid peak loads, shut down plant components or put devices into sleep mode. Reactive power has an additional cost, because unusable reactive power that exceeds the threshold is often charged to the manufacturing company.
The result: Up to a 20 percent reduction in electrical energy costs can be achieved from using our solutions. There are also environmental benefits from the associated reduction in CO₂ emissions. By implementing management systems that help you monitor and reduce energy usage across these areas, considerable cost saving can be made.
Detecting and evaluating faults in processes and plants
Downtime, particularly unplanned downtime, can result in huge revenue losses and disappointed customers, not to mention the inconvenience and man-hours required to fix the problem.
The solution: By connecting and monitoring your machinery in real-time and having the data in a format that's clear and transparent, production processes can be continually improved, and technical errors can be diagnosed and resolved before they lead to a breakdown. Our ActiveCockpit provides real-time information and enables the exchange of information between people, machines and the production process on the shop floor.
The result: This leads to an improvement in the overall equipment effectiveness (OEE) – in some cases of at least 8 percent. By identifying technical errors and malfunctions before they happen, you can minimize downtime and disruption, while also improving the quality of your products and service.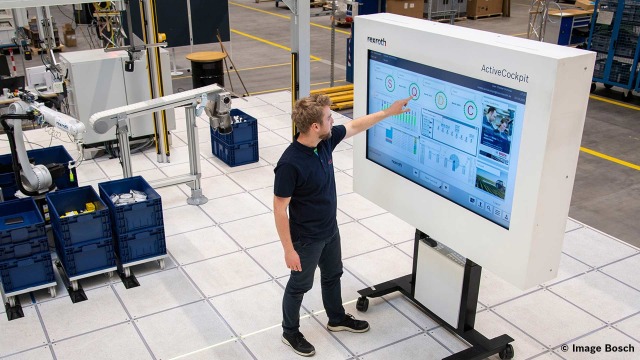 Automatic order confirmation and recording of delivered components
Global networks are steadily replacing self-contained value chains, as manufacturers try to maximize efficiency throughout the entire production and distribution process by means of seamless data transparency.
The solution: RFID technology enables logistics processes to be sped-up and recording processes to be automated. The state of the art option is a camera-based system that automatically captures the DMC, QR code or barcode, so no scanners are needed. The image is then processed and digitally recorded.
The result: These solutions reduce manual work steps by up to 25 percent, saving time in production and logistics. The process becomes more transparent, with parts being tracked and processes confirmed as they happen. Data and malfunctions can be visualized, even on mobile devices. Supply chain management can be expanded, for example, to include traceability of components, material availability and inventory transparency.
Controlled supply, mixing and process monitoring of liquids
Whether you're mixing gases or liquids, eliminating irregularities and reducing manual effort are essential to more effective and cost-efficient production.
The solution: Productivity can be maximized with an inline measuring method that determines the volume flow, and a system for measuring the current mixing ratio. Actuators and a smart control unit can be implemented. We provide software solutions and can also install a user interface, so you can view and monitor information.
The result: We've found that costs can be cut by up to 12 percent by reducing manual effort and saving resources with these solutions. Manual work steps are reduced and the re-ordering process can be automated. The process becomes more reliable, while more efficient use of raw materials and less waste means lower recycling costs and greater sustainability.
The Productivity Boosters
We're working on an initiative to help boost customers' productivity. We spoke to Juliane Hess, a member of The Productivity Boosters team, to find out about this European initiative.
Can you tell us about this initiative?
Our Productivity Boosters initiative is a brownfield, shop floor-oriented approach, which addresses the pain points of our manufacturing customers. We combine our smart products with add-ons, services, and, where suitable, partnering. It's scalable and can be tailored to the customer's individual needs, type of production and conditions – for example, their existing IT infrastructure.
By bundling our manufacturing and digitalization expertise – on the shop floor and the edge – along with our experienced production and IT specialists, we can harness our customers' full productivity potential and improve their production figures. It's this added value approach that makes our offering stand out.
What made you decide to set up this initiative?
Industrial Internet of Things (IIoT) platforms are beginning to replace MES functions and related applications, including production, maintenance, quality, and inventory management, which are a mix of information technology (IT) and operational technology (OT).
Process-oriented digitalization with the right data is essential in today's factories because digital technology can collect data, identify trends and help make better business decisions. A lot of the data and information that's collected still isn't used productively. Professionals who are skilled in control engineering and OT-IT – two areas where there's currently a shortage of experts – are needed. This is what the Productivity Boosters provide.
What type of business is it suitable for?
Manufacturing companies with heterogeneous production equipment and IT infrastructure or systems, that want to improve productivity and reduce costs.
We've already put this method into practice in several projects in Europe. Despite them being across diverse industry sectors, we see clear parallels in the solutions they need, but with different parameters and data. So, we scale the solution according to the customer.
What are the most important findings from your work?
Manufacturers want solutions to solve their production problems. So, increasingly, they're looking for experienced manufacturing technology partners for the long-term. They want solutions rather than individual components.
We've also found that customers go to OEMs and integrators with their requirements for solutions and products. We're feeding back these requirements to our development departments to improve our products.
Are you working on any partner projects in this area?
We're working with SAP on a plug and play solution to implement intelligent device onboarding. This will enable machines to be more easily connected to IT via an edge device and interfaced with the IoT maintenance services of SAP. This solution will give customers the health score of a product, energy optimization, predictive maintenance and OEE improvement.
What advice would you give to SMEs that want to improve their productivity, but don't have big budgets?
Our customers are end customers and SME's driven by their economic environment that want to make use of new technologies, but without heavy and binding investment. Even the smallest improvements can make all the difference. Together with our customers, we use our analysis to define the main measures to work on – the ones that will bring about the most improvement in productivity.
That's why we also provide small and cost-effective solutions that suit the prerequisites of the customer. Sometimes it's advantageous to start small and still think big.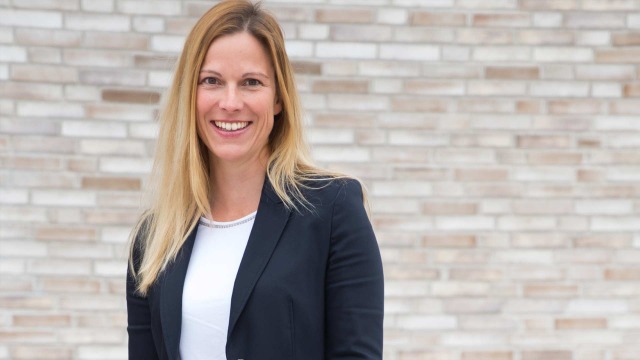 Juliane Hess
If you'd like to know more about our solutions that boost productivity, visit your local Bosch Rexroth site or speak to your local Bosch Rexroth support team.
CMA/Flodyne/Hydradyne is an authorized Bosch Rexroth distributor in Illinois, Wisconsin, Iowa and Northern Indiana.
In addition to distribution, we design and fabricate complete engineered systems, including hydraulic power units, electrical control panels, pneumatic panels & aluminum framing. Our advanced components and system solutions are found in a wide variety of industrial applications such as wind energy, solar energy, process control and more.
______________________________________________________________________